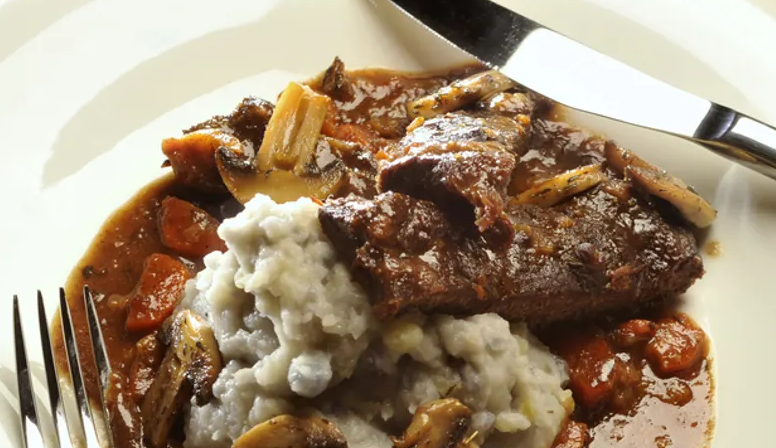 Adapted from Epicurious by Diane Savoie, Culinary Artist as part of the Slow Food Conversation Table on Slow Meat (July 22, 2017)
Ingredients
4 tablespoons of extra-virgin olive oil
16-oz beef cheeks, trimmed of excess fat
(available at Cormier Meat Market in St-Antoine or ask your market butcher)
1 medium onion, finely chopped
1 medium carrot, finely chopped
1/2 celery rib, finely chopped (You can find all your flavouring vegetables at your market)
1/2 teaspoon of unsweetened cocoa powder
2 cups red wine or a good brown Picaroons beer
3 nice fresh tomatoes diced with the juice (3 cups)
(or 28 to 32 oz of canned tomatoes with the juice)
1 1/2 teaspoon of salt
And a good pinch of Acadian Summer Savory from la Ferme Spirale (Cocagne)
SERVINGS: 4 main course servings

Preparation
Preheat oven to 325°F.
Heat 2 tablespoons of oil in an ovenproof 6-quart wide heavy pot over moderately high heat until hot but not smoking. While the oil is heating, pat beef cheeks dry and season with salt and pepper.
Brown beef, without crowding, on all sides, about 20 minutes total, and transfer with tongs to a bowl. Pour off fat from pot, then add remaining 2 tablespoons oil and cook onion, carrot, and celery over moderately low heat, stirring occasionally, until softened, about 10 minutes.
Stir cocoa powder into vegetable mixture, then add wine or beer and scrape up any brown bits. Increase heat to high and boil until liquid is reduced by half, about 10 minutes.
Return cheeks (with any juices) to pot and add tomatoes with juice, salt, and pepper. Bring to a simmer, then braise, covered, in middle of oven until very tender, about 3 hours.
Cooks' note: Beef cheeks improve in flavor if made up to 2 days ahead. Remove any solidified fat before reheating.