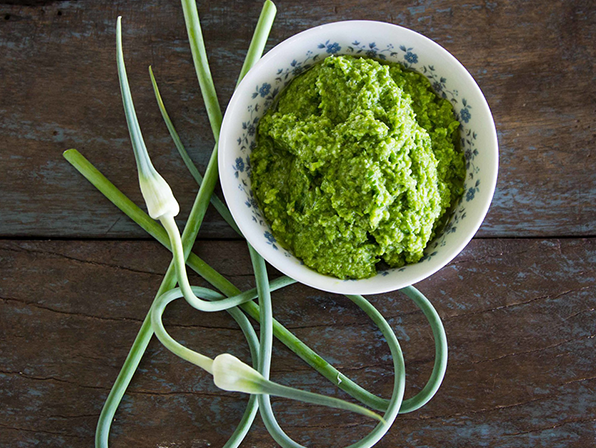 Recipe by The Prairie Homestead at https://www.theprairiehomestead.com/2016/07/garlicscapepestorecipe.html
Garlic scapes are the flower bud of the garlic plant. The bud is removed in late June to encourage the bulbs to thicken up. Scapes make a fabulous addition to a flower bouquet, and they are delicious to eat! Scapes taste just like garlic. They can be used in exactly the same way as garlic in a recipe. The season is short and there is a great way to enjoy them, and possibly to freeze the pesto in ice cube trays for the long winter season.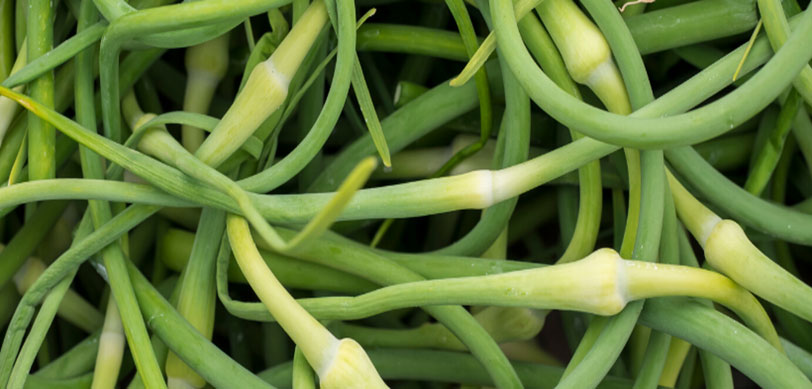 Ingredients
1 Cup Garlic Scapes, cut into 1″ pieces
1/2 cup fresh basil leaves
1/3 cup cashews
1/2 cup extra virgin olive oil
1/2 cup grated parmesan cheese
1/2 teaspoon lemon juice
Sea salt and pepper, to taste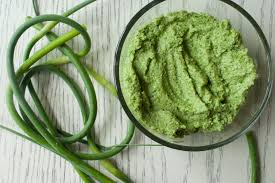 Preparation
In a food processor, process the garlic scapes and basil for 30 seconds.
Slowly drizzle in the olive oil as you continue to run the food processor.
Add in the parmesan cheese, lemon juice, and salt and pepper. Mix and taste, adjusting the salt/pepper as desired.
Use the pesto over fresh homemade pasta (my favorite), use it as a sauce for homemade pizza, or smear it on a bit of crusty bread.