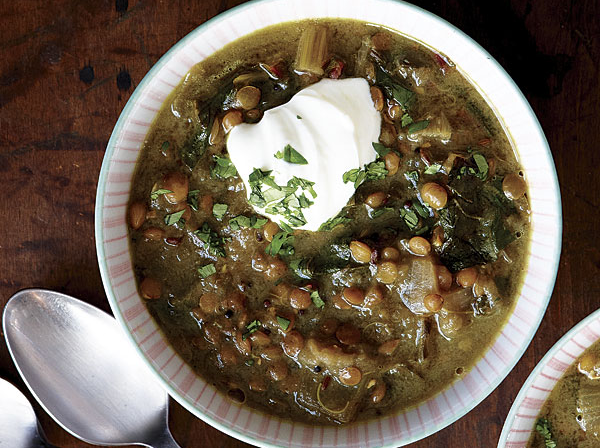 Ingredients
3 large rainbow chard leaves (or Kale)
2 Tbs. coconut oil or unsalted butter
2 tsp. brown mustard seeds1 tsp. cumin seeds
1 tsp. coriander seeds
1 Tbs. grated or minced fresh ginger
2 tsp. grated or minced garlic
1/4 tsp. ground tumeric
1/4 tsp. ground cardamom
1 medium onion, cut into 1/2-inch dice
1 small jalapeño, minced (include seeds)
3/4 lb. rhubarb, trimmed and sliced into 1/2-inch-thick pieces (about 2-1/2 cups)
3/4 cup French green lentils (lentils du Puy), rinsed and drained
1 Tbs. packed dark brown sugar; more to taste
Kosher salt
6 Tbs. whole milk Greek yogurt
3 Tbs. chopped fresh cilantro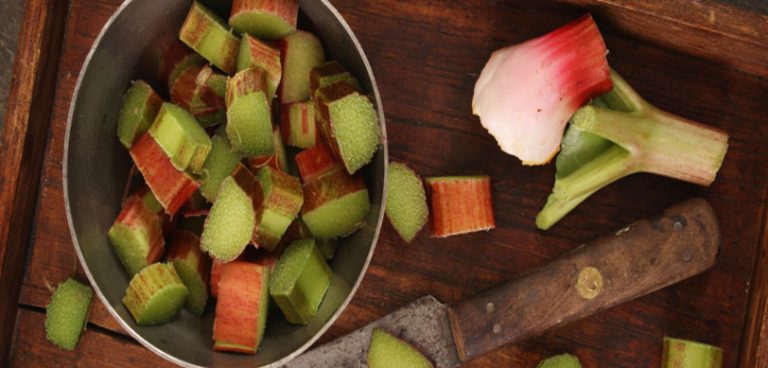 Preparation
Separate the stems from the chard leaves. Coarsely chop the leaves and slice the stems crosswise 1/2 inch thick.
Heat the oil in a 4- to 5-quart heavy-duty pot over medium-high heat. Add the mustard, cumin, and coriander seeds, stir to coat, and then cook until the mustard seeds begin to pop, about 1 minute.
Turn the heat down to medium low and stir in the ginger, garlic, turmeric, and cardamom. Cook, stirring, until fragant, about 2 minutes.
Add the charm stems, onion, and jalapeño, and cook, stirring occasionally, until the onion is translucent, about 5 minutes.
Add the rhubarb, lentils, brown sugar, 2 tsp. salt, and 5 cups of water.
Bring to a boil and then simmer for 30 minutes. Add the chard leaves. Continue to simmer until the lentils are tender but not falling apart, about 5 minutes more. Season to taste with salt and brown sugar.
Served topped with a dollop of Greek yogurt and the cilantro.