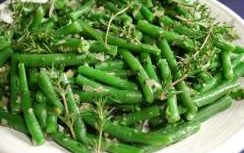 Recipe by Diane Savoie, Culinary Artist
Acadian Summer Savory (Sarriette d'été Ancienne d'Acadie) is recognized in the Ark of Taste by Slow Food International
Ingredients
4 handfuls of green beans from your local market vegetable vendor
Good quality cooking oil
1 – 2 tablespoons of garlic jelly
(La Ferme Spirale, Cocagne)
Acadian Summer Savory to taste
(La Ferme Spirale, Cocagne)
Makes 4 servings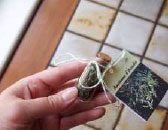 Preparation
Wash green beans and remove flower ends.
Add a good quality cooking oil to a large frying pan and cook beans until tender.
When almost cooked, add 1 – 2 tablespoons of garlic jelly (la Ferme Spirale) and a large pinch (to taste) of Acadian Ancient Summer Savoury.
Finish cooking a few minutes.
Serve warm or cold in a salad.